Motivation and professionalism – Explore the story behind ÊTRE Organic Underwear
What was the inspiration of Mrs. Erzsébet Tóth to create a sustainable and ethical brand? The story behind her company – ECO-VILL-TEXT Ltd. – and her brand reminds us of the dramatic changes in the past period of the Hungarian fashion and garment industry. In addition, her own life path and experiences also had a significant role when she decided to found her enterprise. In this article, Erzsébet shares the heartwarming and also informative story behind ÊTRE Organic Underwear.
Family background and the first connection with clothing
I was born in Kapuvár in the heart of Rábaköz and I still live here with my family, with my husband and our two children. I've studied in the local secondary grammar school and I immediately started working after graduation. In 1994, I got a job at Triumph Clothing Company, the biggest Triumph plant in the country. I decided to learn all of the production processes of underwear and I worked according to production norms for several years.
Sewing was never far from me since my mother worked as a textile technician and team leader in Richards Fine Felt Factory, which was very well-known in Hungary and it had a "golden age" at that time.
My mother used to bring me samples of materials when I was a child, and I used to sew baby clothes on my own little sewing machine.
In the meantime, I became very interested in the lingerie industry so I decided to follow my mother's footsteps in my education, too. I got a certificate in sewing and then I graduated in textile technology. 
I got married in 1998 and I planned the details of my future career while raising our beautiful children. I trained myself day and night and I took a secondary language exam in German.
Working background and an ever-changing landscape
As I returned to work, I got the opportunity by the management to gain more insight into the production processes as a pre-production professional. I was also involved in business contacts, correspondence and translation of technical specifications. I really enjoyed my job, as it was a real challenge for me.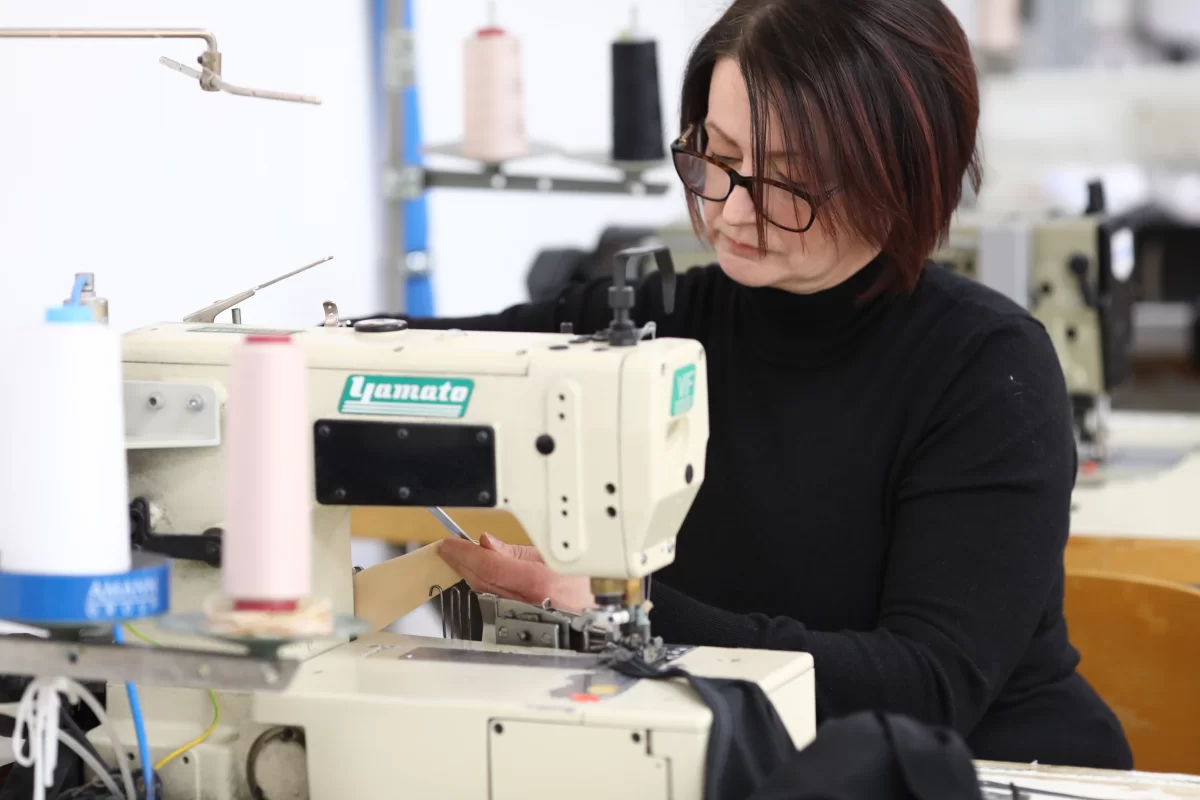 After a few years, I had to move on so I continued to work in DÁMA Textile Cooperative in Győr, which was also a Triumph plant for more than 20 years. Unfortunately, in 2013, Triumph terminated its wage contract with the company and I tried to find new business partners for the cooperative during the six-month notice. We started sample production but six months were not enough to start a new process.
In 2013, the cooperative was closed down and I became self-employed. I bought machines from Triumph and I had to go on this rough road alone. I reached an agreement with a Spanish company for the production of lingerie in September 2013. I was able to guarantee high quality for them and I built up the capacity for this production step by step.
Our sustainable underwear brand and its mission
After one year, we started to produce about 7.000 pieces of underwear per month, and thanks to the continuous development, we founded ECO-VILL-TEXT Ltd. with my husband in 2016.
With such a production facility, background and experience, we continued to build the future of the company. I believe that establishing our brand – ÊTRE Organic Underwear – fulfills my dream about creating sustainable underwear that meets many requirements to protect the health of our customers and the environment.
I learned at the Hungarian Society of Textile Technology and Science and they were very pleased to help me with networking. I met Dr. Gabriella Mányi Walek, President of the National Fashion League Hungary, who works with many sustainable fashion brands. She saw very good potential in our company both for domestic and foreign markets. She gave me a lot of advice and wrote an interview that you can read here.
Our first target audience were men so in 2020 we started with a collection for them. Almost two years later, we entered the market with our collection for women. All of our products are made from organic cotton and bamboo material which is antibacterial and skin friendly. Harmful chemical agents are avoided during its production. We always keep in mind what's best for our customers and the Earth and try to act in the most sustainable way that's possible. Check out our blog articles to explore more details about our sustainability mission.